Development of applications and websites.
Liquidador de sueldos vousys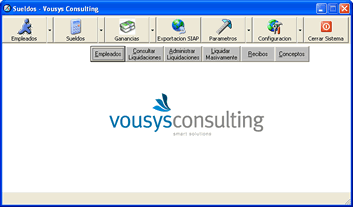 22/04/2006
Liquidador de sueldos vousys
Permite trabajar con varias empresas y dentro de cada una de ellas,administrar los empleados,todos los parametros necesarios para poder generar la liquidacion de los haberes,sistema de fichaje y ausencias, control de pagos realizados. Genera los recibos de Sueldos, y los informes requeridos. Permite realizar todo tipo de busquedas e Impresiones y Realizar Back-ups
Check out here all the proyects that they ask for us to rock!
... Don't go away without seeing all our projects! Check them out here
Web (183) , Mobile (14) and our Products(26)
Go to Top
We rocked their idea
to these cute people