Development of applications and websites.
Malala - carrito de compras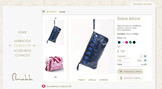 PHP
Firefox
Chrome
25/01/2009
Malala - carrito de compras
Este sitio nos fue encargada la programacion del mismo, mientras que el hermoso diseño que lo acompaña fue desarrollado por la prestigiosa agencia Agostini-Verini .
El desarrollo requeria la implementacion de un carrito de compras a medida, el cual fue desarrollado con AJAX para acelerar los procesos de venta, permitiendole al cliente comprar mas productos en menos tiempo.
El medio de pago elegido fue HSBC quien permite transaccionar online, otorgandole al cliente una mayor confianza ya que cuenta con el respaldo de ellos.
Check out here all the proyects that they ask for us to rock!
Ey!
"AGENCIA X is saying out there ..
Vousys is a highly professional company that offers the best answer / solution to the challenges before it. Excellent results, timeliness of delivery and a speedy response are outstanding qualities.It is a pleasure to work with Veronica and his team!
"
AGENCIA X
10
... Don't go away without seeing all our projects! Check them out here
Web (183) , Mobile (14) and our Products(26)
Go to Top
We rocked their idea
to these cute people