Development of applications and websites.
Sistema de gestion vousys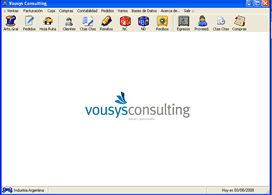 22/04/2006
Sistema de gestion vousys
Permite administrar Clientes, Proveedores, Transportes, Vendedores (con su generacion de Resumen de Comisiones), Listas de Precios, Articulos, Hojas de Ruta, Entidades Bancarias, Formas de Pago, Alicuotas de IVA,Cartera de Cheques, Pedidos ,Planes de Cuenta para Movs. de Caja. Facturacion y Cuentas corrientes tanto de Clientes como de Proveedores, Movimientos de Caja, generación de Estadisticas Mensuales y/o Personalizadas, Informe Iva Compras/Ventas con sus Desglozes, Realizacion de Back-Ups,etc.
Check out here all the proyects that they ask for us to rock!
... Don't go away without seeing all our projects! Check them out here
Web (683) , Mobile (14) and our Products(26)
Go to Top
We rocked their idea
to these cute people